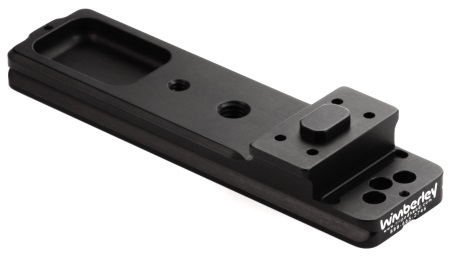 The AP-553 Replacement Foot has been discontinued and replaced by our AP-554 Replacement Foot. This page is here for reference only, as the AP-553 is no longer available for purchase.
AP-553 Replacement Foot What's Included
For Nikon: 500 f/4 AF-S versions I & II, & VR
200-400 f/4 AF-S VR
Dimensions (Overall L x W x H): 5.7 x 1.5 x .9 in
Weight: 5.3 Oz (plate, mounting screws ,& stop screws)
Download Product Instructions -

This plate (AP-553) has been replaced by the AP-554, which provides a better handle to carry your lens by and is longer, allowing you to balance your lense with lighterweight camera bodies. However, we are still selling the AP-553 as a less expensive & lower profile option for those who have heavier camera bodies (see chart below for campatibility). If you meet the requirements of the compatibility chart below, and want the lowest profile and most ridgid plate possible this plate is a good choice.
The AP-553 does not provide enough length for proper balance when using the certain light weight camera bodies (see chart below). If your lens/camera combo is not compatible, use the new AP-554 foot.
| Lens | Compatible Bodies | Incompatible Bodies |
| --- | --- | --- |
| Nikon 500 AF-S I & II | Cameras + battery 30oz or heavier (including the D300) | Camera + battery lighter than 33oz (e.g. D90, D7000, D5000 & D3000) |
| Nikon 500 AF-S VR | Cameras + battery 34oz or heavier (D3 and similiar pro bodies) | Camera + battery lighter than 34oz (e.g. D300, D90, D7000 D5000 & D3000) |
| Nikon 200-400 AF-S VR | Cameras + battery 25oz or heavier (including D300, D90, & D7000) | Camera + battery lighter than 25oz (e.g. D5000 & D3000) |

About Replacement Feet

| | |
| --- | --- |
| These custom low-profile replacement feet replace the factory foot on the rotation collar of your lens and also serve as the Arca-Swiss style quick-release plate for your lens. No additional quick-release plate is needed. It makes your lens handle better on a conventional tripod head, such as a ball head, and also makes it easier to pack. | Example Shown: Nikon 400 f/2.8 |