Lightweight - 1.4oz (40.8g)
A hollowed-out underside and lack of flanges or extensions on top minimizes bulk and weight.
Dual Safety Stops
The P-5 features the same unique dual safety stops found on our lens plates.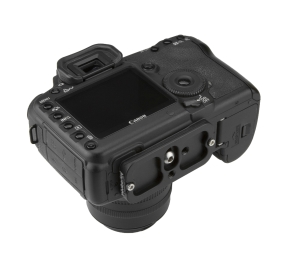 Ergonomics
The P-5's thin profile and generously rounded corners make it easy on the hands; it blends beautifully with the contours of your camera.

Threaded Hole for Non-quick-release Applications
For further versatility, the P-5 offers a third hole that is threaded and can be used to attach your camera to a ¼" stud on a tripod head platform without the need for a quick-release clamp (see bottom view).